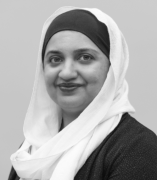 Shabana Malik
Horizon Science Academy
About
Shabana is a certified Project Lead The Way-Principles of Biomedical Science  (PLTW-PBS) , Human Body System (HBS) and Medical intervention (MI) teacher. She also teaches AP Biology along with Regular and Honors Biology Teacher. She is an Adjunct Faculty member at many  colleges and universities in the city and suburbs of Chicago. She is a Subject Matter (SME) expert in Biology and is beta testers for university courses as well. She holds two Master's degrees, one in Microbiology from Quaid-i-Azam University (QAU), Pakistan. She got another Masters in Biotechnology from Illinois Institute of Technology, (IIT) in Chicago, IL. She went to Benetictine University (BU) under TEACH Grant for her Initial Teaching Certification Type 09. She is Project Mastel Scholarship winner for English as Second Language (ESL) certification from University of Illinois (UIC) in Chicago, IL. She has recently got her terminal degree Educational Specialist (Ed.S) in Educational Leadership from National Louis University (NLU). She is a certified Teacher Evaluator in the State of  Illinois. She has been Delivering Professional Development at Concepts schools. She is currently serving as Head of Science Department. She led the HSA school-wide as well as Concept Schools Science Fair in SY 2021-22.
She was always passionate about research. She worked as a Junior Research Assistant (JRA) at Microbiology Research laboratory at Quaid-i-Azam University (QAU) Pakistan from 2000-2002. She continued working as a Microbiologist in pharmaceutical as well as cosmetics companies. Her Nanoparticles research experience expanded after she participated in Micro-contact printing on Gold CD-Rs involving Nanoparticles, called Color my Nano-world lab activity by Mike Davis and Diane Hickey at Harold Washington College, Chicago, IL (11/2009). After that, she completed a year long Professional Development in BIOTECHNOLOGY at Lindblom Math and Science Academy (LMSA), Chicago, IL to bring the Biotechnology curriculum and Labs into Chicago Public Schools (sponsored by Baxter). She is a two time winner of Research Experience for Teachers (RET) at University of Illinois (UIC) and University of Illinois Urbana Champaign (UIUC). Both research projects were based upon nanoparticles, their synthesis & characterization as well as application in medicine.
Currently, she is working in Dr. Shokufar's In-Situ Nanomedicine Lab (INL) at University of Chicago (UIC) during the BEST research program for teachers summer session 2022. Dr. Shokufar's research focuses on In-situ liquid electron microscopy of biomolecules and biomaterials and their biochemical activities in wet/hydrated environments for diagnosis of human diseases. Shabana has been working on Graphene Liquid cell Transmission Electron Microscopy (GLC-TEM). She developed Graphene coated gold grids to study to accommodate the tiniest amount of samples for GLC-TEM. She developed a curriculum based upon this technique for her PLTW classes. In this culminating unit, students will be challenged to create a Bionic Human and make their case in front of the US Department of Defense  (DOD) to get their Bionic Human design selected. Bionic human designs can include researched  medical interventions that improve the human body. For e.g. GLC is used to detect Calcium oxalate in Kidney stone formation, also used to observe in-situ nanoscale Ferritin Biomineralization which is responsible for controlling the amount of toxic Fe2+ions in the human body to study Iron disorders and diseases etc. Students will use GLC graphene molecular kit modeling and create a graphene monolayer using graphite from pencil and taping it several times. They will then visualize and photograph successive graphene layers using digital camera equipped Trinocular Biological Compound Microscope.