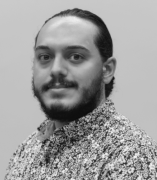 Anthony Carlsen
Lake View High School
About
Anthony Carlsen is a second-year science teacher at Lake View High School. He has previously taught biology and chemistry. In the upcoming school year, he is looking forward to teaching physics. Anthony's goal as a science teacher is to create opportunities for students to engage in science and to see STEM careers as a possible career path, especially for students who are underrepresented in STEM. He also enjoys creating interdisciplinary STEM opportunities to show students how their classes are more interconnected than they initially may seem. Anthony is a coach for Lake View's Robotics Team helping students gain programming and building skills while also learning the engineering design process. He partnered with a music teacher to create an interactive science and sound activity where students created a binaural recording for Lake View's first STEAM Day.
Anthony is a graduate of UIC's College of Engineering where he majored in electrical engineering. While in undergrad, he focused on digital signal processing and discovered an interest in art history. The connection between art history and STEM lead to his interest in interdisciplinary STEM ideas. Rather than pursue a career as an engineer, Anthony instead chose to become a high school physics teacher. He is a recent graduate from UIC's College of Education with a Master of Education in Science Education.
Anthony first learned about this program while in the MEd program, and was very fortunate and glad to have an opportunity to participate. He is currently working in Dr. Kamran Avanki's Optical and Photoacoustic Imaging Research and Analysis (OPIRA) Laboratory. OPIRA currently has many projects, and Anthony has been focusing on photoacoustic imaging (PAI). PAI is a novel imaging technique that uses a laser to shine a light onto a sample, causing the sample's temperature to briefly increase. An ultrasound is created during this temperature change that can be detected using ultrasound systems found in healthcare facilities. PAI has the potential to provide healthcare professionals with greatly improved images, and can be more accessible than other techniques.
This physics unit will have students connect waves, optics, electromagnetics, and sound to learn about PAI. Students will use engineering skills to conduct investigations. Students will build an electric circuit to demonstrate the photoacoustic effect which they can modify to determine factors that affect the sounds they hear. Students will also explore reconstruction techniques that create 3D models from 2D cross sections.